The Aboriginal Australia wall map represents work carried out for the Encyclopaedia of Aboriginal Australia. Using the published resources available between 1988 and 1994, the map attempts to represent language, tribal or nation groups of Australia's Indigenous peoples.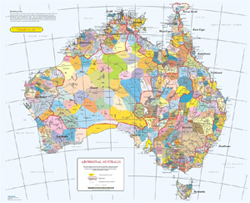 You can find the interactive map here!

Click here for more information about the Aboriginal Studies Press of the Australian Institute of Aboriginal and Torres Strait Islander Studies.
Disclaimer: This map indicates only the general location of larger groupings of people, which may include smaller groups such as clans, dialects or individual languages in a group. The boundaries are not intended to be exact. This map is not suitable for use in native title or other land claims.
Permissions
ASP grants permission to reproduce copyright material from the Aboriginal Australia wall map and other publications. Further information.
Sales
You can purchase a copy of the map directly from ASP telephone +61 2 6261 4200, or by ordering from your local bookseller.
The map is available in two sizes:
Small (594x841mm), RRP $14.95
ISBN 0 85575 496 6 – flat
ISBN 0 85575 497 4 – folded
Large (841x1189mm), RRP $24.95
ISBN 0 85575 491 5 – flat
ISBN 0 85575 492 3 – folded